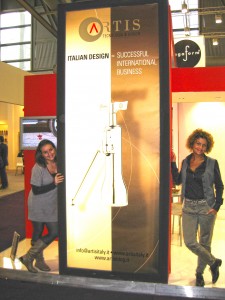 As we previously announced from the 10th to the 14th of February we were in Frankfurt. Artis participated for the second consecutive year at Ambiente, the most important European event for gifts and home products.
We had five intense days, began with a challenging trip with a overloaded car, advanced by bad weather that has plagued the center of Italy for days, putting in risk the arrival of our booth at the fair.
But eventually we arrived. Just the time to retrieve a television (thank you Messe Frankfurt) and meet  Vladi , our kind and very qualified translator, and then back to the hard hard hard work.
We must say that we have noticed a lower turnout than last year, but definitely more qualified: only distributors or agents really interested in our products stopped by. Very few Germans were present, but very interesting  the foreign presence. Apart from some Italian clients,  Americans, Chinese, Israelis, Australians, Greeks, Spaniards, Portuguese, Canadian, Austrian, British, Bulgarian, Spanish, Swiss stopped by at our booth demonstrating the importance of this event.
It was nice to see that several distributors met last year in Ambiente  specifically looked for us this this year, because ready to start working with us.
And even back in office we found few different e-mails from contacts encountered that required samples and information about sales conditions.
A positive balance then, and good bases for the export of our products in the near future. We will keep you updated. In the meantime you can see some pictures of our stand in the Facebook page.
Questo post è disponibile anche in: Italian