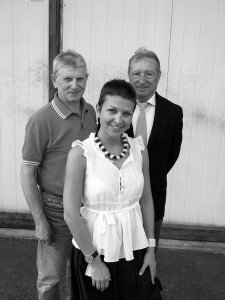 The Artis – Design and Technology range comes from the pleasant union of  Trasmissioni Buzzolan's technology and experience together with the creativity of the designer from Vicenza Giuseppe Todeschini.
Thanks to the creativity, experience and touch of Todeschini  these objects are no longer merely fuctional. Elegance and practicality, design and high technology, smoothness and robust strength all meet in harmony creating prestigious objects and sophisticated gifts.
The innovation of Artis comes from the business experience in precision engineering: more than forty years of research and design, test of materials and human resources have led to realize a project in which technology, design and research are a prerequisite for providing  commonly used products, but of uncommon quality.
(Giuseppe Buzzolan, Sara Buzzolan e Giuseppe Todeschini)
Questo post è disponibile anche in: Italian