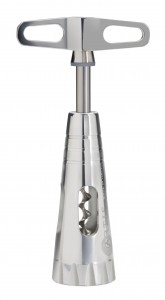 The Artis family has added a new element: "Spiral", the corkscrew with endless screw.
A clean, elegant brand coupled with great strenght and ease of use. It is enough to put it on the neck of the bottle, screw clockwise and unscrew counterclockwise to remove the cork. And you're done!
The corkscrew Spiral with endless screw is made from truly fine materials and with precision machining. In particular, the body is made from the whole piece of metal with numerical control machines in a special aluminum alloy with high strength, followed by brushing and polishing done by hand.
The color and sheen of the surface are guaranteed over time thanks to a special treatment of oxy- anodic coloration. The screw is made from patented CNC equipment from a high strenght bar of steel alloy.
Technical Sheet Corkscrew Spiral
Questo post è disponibile anche in: Italian